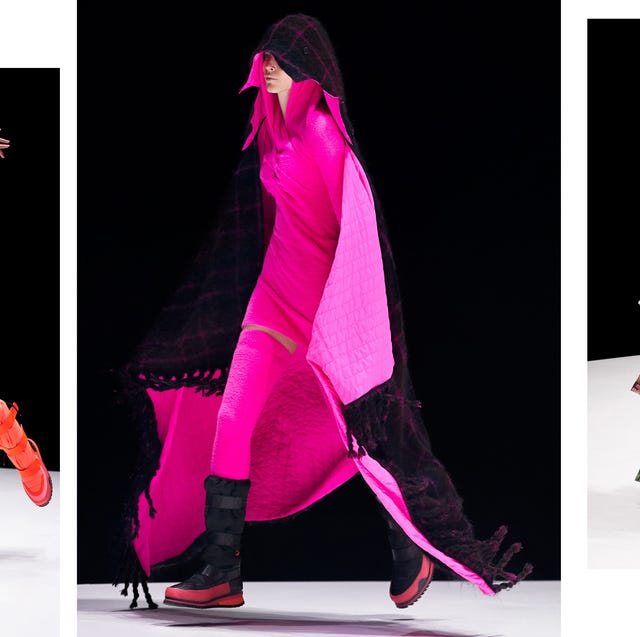 Courtesy
Paris Fashion Week never disappoints in offering collections that reflect the zeitgeist, while also letting us dream. Even in this topsy-turvy period, designers are pushing forward, presenting, by and large, virtual showcases that prove why Paris is the fashion capital. Ahead, we select the best from the fall 2021 season.
---
Advertisement – Continue Reading Below
Kenzo
Today marked the first collection since the unexpected passing of the label's namesake and founder Kenzo Takada in October. In keeping with the exuberance the brand has always embodied, today was hardly about sadness—but celebration instead. "I have started by watching all of the (recently restored) videos of
Kenzo's shows from 1978 until 1985…" creative director Felipe Oliveira Baptista explains, "To see all these great garments in movement opened a new perspective into Kenzo's world." The show included pieces from the archives as well as new designs that reflect that sense of joy, through color, floral prints, models who dance. It's about, "Possibilities of a new world," Baptista continues, "A world without borders, prejudices, and stereotypes. Kenzo stood for freedom, joy, diversity, love of nature and creating harmony out of contrasts." In a time when the AAPI community is at the forefront of needing support, honoring one of fashion's greatest Japanese designers feels particularly timely. –Kerry Pieri
Stella McCartney
Stella McCartney is ready to go out and party. On a Zoom call, where she presented her fall 2021 collection, the English designer admitted that she hadn't been to a club pre-lockdown (she does have four children, after all). But now that the world is slightly opening up again, she is itching to dance and get "sweaty." And the slew of looks she offered are primed for a night on the town: a ruched bodycon frock with a peplum hem in bright fuchsia, a one-shouldered PVC-free sequined jumpsuit with a psychedelic pattern, and flowing mini trapeze dresses in neon hues that were paired with glittering platform boots—think modern-day Ziggy Stardust. Of course, McCartney always imbues her British heritage in her designs, which, along with the David Bowie nod, came in the form of oversized coats in houndstooth, and roomy blazers and flared trousers in tattersall check.—Barry Samaha
Louis Vuitton
There's no place like home. A year after the global health crisis closed the Louvre—the world's most visited museum and Louis Vuitton's regular show venue—Nicolas Ghesquière presented his Fall 2021 collection in its empty Michelangelo and Daru Galleries. For the maison's artistic director of womenswear, there was no need to venture far to create the impression of traveling: he found all the inspiration he needed in masterpieces of Greek, Etruscan, and Roman antiquity.
Ghesquière embarked on a fruitful partnership with Fornasetti, the Milan atelier founded by the celebrated 20th century designer Piero Fornasetti famous for covering furniture and objects with surrealist drawings of buildings, locks, keys, and ancient statues. Drawing from Fornasetti's rich archives, Ghesquière remixed these motifs with thermal-camera imagery on velvet dresses, shiny printed jersey tops, fleece-hooded jackets, and tailoring pieces to create a rich palimpsest of past and future. "Exploring the Fornasetti archives had the excitement of an archaeological dig, searching for and finding drawings from the past to give them a new life," he wrote in his show notes. —Alison S. Cohn
Kenneth Ize
Contrasted against spring, fall collections will always tend to be more sober and somber, darker and made from heavier fabrics. Nothing could be more natural, yet also just as obvious? The reaction so many of fashion's creative class have had to the steady burn happening around them. Kenneth Ize's trademark use of clashing color wasn't completely absent from his latest, yet was definitely dialed down (a likely response to both the continued ravages of the pandemic and the police brutality that affected his hometown (and home base) of Lagos. His palette this go-around showcases black, deep garnet, and saturated mustard, with the biggest presence of bright coming from a wide range of greens, a subconscious desire for rebirth perhaps. From the classic silhouettes to the bright moments, it's not not Ize, but is decidedly more serious and less fun than what's come before.—Leah Melby Clinton
Silvia Tcherassi
As maximalism has risen, so has a love of what we might have previously considered clashing or gauche or otherwise just too much. Whether it's a rebellion from sleek minimalism or a heady grab toward whatever feels joyful, there's no denying we've come to want our puffs puffier and our prints mixier. Silvia Tcherassi recognized this particular strain of fashion greed and answered it, smartly creating personality-packed versions of basic silhouettes. From polka dots to retro-inspired appliques, there's something special about every single item—which is just what this type of dresser wants.—Leah Melby Clinton
Miu Miu
From Versailles to the Venice Lido, Paris Fashion Week has doubled as a virtual vacation. While we may not actually be going anywhere for awhile yet, today Miuccia Prada let us travel vicariously with her merry band of Miu Miu girls to the dreamy resort town of Cortina d'Ampezzo in the heart of Dolomites Alps. Set against the majestic landscape of snow-capped mountains, the show featured a number of hopeful party dresses paired with ski chalet chic outwear—including teddy-bear faux furs and very Ella Emhoff crystal-embellished coats—that would also look great off the slopes. Pastel knit ski helmets with detachable coordinating mask panels were the must-have accessory. —Alison S. Cohn
Chanel
For Fall 2021, Chanel goes to Castel, the intimate Parisian club."I wanted a small space. I don't know if this is because of the times we live in, but I wanted something warm, lively," Virginie Viard. explains, "I decided to go to Castel. I like Castel so much for its many salons, the spiral staircase, its bar, the journey through this venue, its little house style, where the models can get changed, dressed and undressed, do their make-up together, and have fun like a girls night in. It's very sensual." While the show space may be of these times—intimate, just close friends—the looks from Viard's latest collection tell a story that's far more in line with a future of nights out, trips, and getting. dressed. up. "This collection is a mix of two influences: the ambiance of ski holidays, which I adore, and a certain idea of cool Parisian chic, from the 1970s to now." Those influences translated to Fair Isle sweaters, little Chanel logo salopettes-ski suits, a zip away skirt and tweed jacket with silver "dancing" booties, sheer blouses, smart trouser suits with cropped jackets in black and bold pink, and a standout gold lurex trench. There are ski boots and sandals and pendant necklaces and double C belly chains—so, so much to have fun in. —Kerry Pieri
Paco Rabanne
Julien Dossena traffics in embellishment. His latest collection for Paco Rabanne is all luxury by way of rich velvets, lace, vibrant gemstones, and of course chainmail. All of that opulence is balanced with crisp white collars, Prince of Wales check or tweed, mid-length masculine coats with boxy shoulders, and the feminine florals that have become a brand trademark as well. The vibe over all is louche '70s silhouettes meets '40s femininity. Faux furs also make an appearance—solidifying the idea of maximalism and texture as a bold and optimistic way forward. –Kerry Pieri
Balmain
Olivier Rousteing has always known how to read a moment. For Fall, that means an obsession with travel and escapism, getting out out out and away from the zip codes we've spent so much of the past year in. From the runway setting—jetside at Charles de Gaulle—to the lion's share of the clothing, everything references the idea of taking flight. Board and begone! There were flight suits and lounge-ready sweaters; aviator-inspired coats and bombers; plus plenty of pockets (perfect for stashing your ID post-security, obviously). Hints of neon and metallic jolts punctuated all the olive, while a few standout stripes provided graphic indication of where the traveler might be headed. It's a slightly more practical Balmain, with less minis and more "comfortable" looking pieces (take that with a grain of salt: It's stuff you can wear curled up in a first-class chair, yes, but also pair with sky-high heels when the need arises). Fashion has always romanticized the traveler, but she's been elevated to icon status here.—Leah Melby Clinton
Givenchy
What life will look like in the second half of the year is anybody's guess at this point. Will we be putting on our glad rags, or still mostly keeping cozy at home? The madcap layering in Matthew Williams's Fall 2021 Givenchy collection embraced both of those possibilities. Sheer going out out tops were paired with trim cigarette pants, while feathered and sequined gowns underpinned board room ready blazers. For those who just want to wrap up warm, there were chic cropped puffers and the faux fur coats so plush it seems a shame to call them faux. "This collection is about a constant tension between two worlds," the designer wrote in his show notes. "It's about finding personal meaning in difficult circumstances." Challenge accepted. —Alison S. Cohn
Thom Browne
Most fashion films accompanying a collection can feel like fluff, unnecessary projects that don't serve the purpose of viewing the clothes. Thom Browne's latest, a black and white '40s journey clearly inspired by Dorothy and Oz and starring Lindsey Vonn, was not that. From the start, slow motion lets the viewer see the clothes sway and move; tight panning shots put you up close and personal with details in a way the front'est of front row seats wouldn't allow. The collection is all black tie, with bow-tied white shirts popping out like formal underpinnings. Fashion meets sport as corsetry, boning, and bouclé sit alongside performance-fabric gowns, crafted in that oh-so-Thom Browne way of looking as if they were mid-shrug-off. Like the film's accompanying subtitles read, all is ready to transport us to the dream-like setting that is a dressed-up night out with people we love. There's no denying it's formal, yet the idea of a maxi puffer trailing behind us provides some comfort, reminding us that once we're through with dipping our toes back into the world of sociability, returning to a cozy life at home will be easy.—Leah Melby Clinton
Dior
On International Women's Day—and the day after Meghan and Harry's explosive Oprah interview—Maria Grazia Chiuri's fall 2021 collection shown in the Palace of Versailles's storied Hall of Mirrors offered its own powerful reckoning with the mythos of fairy tales. The Dior creative director commissioned Italian artist Silvia Giambrone to create a custom installation for the opulent space in which the 357 gilded mirrors built by Louis XIV were replaced by wax and protruding thorns in a commentary on patriarchy and female self-perception.
As detailed in the new book Her Dior, Chiuri has made feminism a cornerstone of her work since her first collection for the house, which featured Chimamanda Ngozi Adichie's statement "We Should All Be Feminists" on a T-shirt. Here, Chiuri looked to the work of female authors of fairy tales such as Angela Carter—whose retelling of Little Red Riding Hood in the 1979 short story collection The Bloody Chamber inspired a series of hooded cloaks—as well as 17th- and 18th-century writers Madame d'Aulnoy and Madame Leprince de Beaumont. Paired with black leather, motifs recalling childhood innocence like white collars and broderie anglaise were anything but sweet, while bloodred tulle evening gowns fit for princesses offered no promises of happily ever after. —Alison S. Cohn
Jil Sander
Jil Sander is the paradigm of minimalism; the brand was built on offering sleek, no-fuss tailored pieces, often in navy, black, white, and neutral tones. For fall 2021, however, designers Lucie and Luke Meier decided to add exuberant prints into the mix. Pastel colors have factored largely in their past collections, but with the addition of, say, a yellow and white chevron pattern on an elongated sheath and green and white waves on a maxi knit dress, the duo is expressing the kind of whimsy and joy that has characterized many presentations this season. Of course, they are doing it in a way that stays true to the brand: pristine silk blouses with pleated skirts and sharp wool suits—no unnecessary frills here. Even their silk slips with floral appliqués imbue a less-is-more vibe.—Barry Samaha
Schiaparelli
Irreverence, surrealism, risk taking, the unexpected, and a playful attitude are all key to the Schiaparelli DNA, and when it comes to facing the heritage of such a legendary house head-on (and channeling it for the modern-day shopper), Daniel Roseberry continues to prove he's the best man for the job.
Roseberry's pedigree from his tenure at Thom Browne no doubt prepared him for this moment; he's on a roll after Lady Gaga and Kim Kardashian West served up IRL moments in his haute couture and put his knack for merging taboo motifs with fine craftsmanship on the global map. For fall 2021, he continued to play with body parts, suits of armor, the house's signature padlock, and his affinity for gilding all of the above. Gaga's dove brooch made its way into the collection, and the silhouettes continued to feel as strong and powerful as they do feminine. The array of brooches and new accessories cemented one of Roseberry's key show notes: "Bijoux that are as much armor as they are embellishment. … All of us who love fashion understand that there's an uneasy (if necessary) marriage between design and commerce." It seems that between couture, his seasonal collections, Instagram, the inauguration, and awards season, Roseberry has found an on-brand balance of both. —Carrie Goldberg
Lanvin
If you grew up when Bruno Sialelli did, you remember the power of MTV—and when Gwen Stefani's "Rich Girl" featuring Eve debuted. It was all about unapologetic excess—from shopping sprees to Fashion Week after-parties. This was when it was okay to get dangerously close to maxing out your credit cards, and then ordering everything off the room service menu in the royal suite. After a year of lockdown, Sialelli is ready to be a little extra as an ode to the era when he first embraced the art of excess. So he asked, What would he and his clients wear if they were a rich girl—knowing full well that many of them are.
Stefani's tune was the soundtrack to a collection full of feathers, leopard, pastels, jewel tones, embroidery, evening gowns, sparkle, and all the accessories to go with them. A cameo from Eve herself made the collection video that much more music video-esque, conjuring memories of VJs and TRL. In a time of constantly looking ahead, Sialelli is ready for a throwback. This collection makes fashion lovers consider what we'll wear in the Roaring 2020s when shopping, parties, and glamour are back in full swing. —Carrie Goldberg
Giambattista Valli
This season, Giambattista Valli merged the motifs of his native Rome with his adopted hometown of Paris. The color palette was an obvious joining of both worlds, with French black and white pairing with Italian red and gold and sweet garden-esque florals strewn in.
The silhouettes were a combo of both cultures—much of the collection had strong and sexy micro mini hemlines, and all the eveningwear was done in slim shapes. But it was the embroideries that really brought the two cities together in the most romantic and feminine of ways; evening gowns in gold and black sequins with floral embroideries tapped into the glitz and the glamour of Italy, while the ease of the silhouettes felt like Paris. The motifs spoke to the beauty of gardens and frescos alike, and proved that Valli, an understood maestro of red-carpet moments, could create drama in ways outside his signature volumes. —Carrie Goldberg
Hermès
Hermès is simple, but never minimal. It's classic good taste, elegant silhouettes, and an attention to detail and craftsmanship that can't be rivaled. Fabrics are the real star here, with leather, wool, silk, and shearling all playing nicely both together and alone. Oversized pockets and panels offer Nadège Vanhée-Cybulski an excellent way to display the sort of detail the house is known for: There are too many opportunities for lesser hands to slip up or show a messy stitch (something that simply doesn't exist in the world of Hermès). The palette, based on luxe neutrals, gets a punchy kick here and there from ruby red and primary green and orange, and prints mostly present on cropped jackets. It's far from loud—Hermès would never—but it gives itself plenty of opportunities to show off. —Leah Melby Clinton
Altuzarra
We could very well be entering a stage where our clothes will need to work harder than ever before. With work-life still in flux, everything ought to be easy enough for home but chic enough to step out, and Joseph Altuzarra got the memo. Dresses and knits are versatility perfected, the sort of thing that would collect compliments when out but also ace elevated WFH dressing. Draped, belted, and off-the-shoulder shapes all wink at the loungewear we've been living in, though ran through the filter of the tailoring he's made such a signature. To that end, there are less blazers than you'd typically see in a fall collection, and those included are boxier, roomier, as if we could no longer restrict ourselves too much. Instead, it's a dress world, and Altuzarra is ready for it in tie-dye, checks, leather, and more. —Leah Melby Clinton
Cecilie Bahnsen
"After lockdown number one in Copenhagen last year, when we got back into the studio, I drew a line through the calendar," Cecilie Bahnsen explains via her show notes. Seasonality, time, and process all played a back seat to the preparations for this collection, which Bahnsen explains started with the fabrics. She and her team gathered the finest silks, floral fil-coupé, pleated organza, and matelassé before even deciding what shape they'd take, but the results are a redefined luxury that feels true to the designer's pre-COVID brand codes. Comfort and luxury go hand in hand; layers and texture are as romantic as they are security blankets to the wearer; volume and scale can coexist with lightness and effortlessness. Bahnsen's message in her Copenhagen studio seems to be on par with what she'd like her clients to embrace: Do what works for you. She's carrying that methodology into her delivery of fall 2021, which will be released to shop in four drops throughout the season, organized by the season's key colors: white, black, blue, and soft lemon. —Carrie Goldberg
Isabel Marant
Let there be no doubt: Isabel Marant's take on futuristic dressing is still very Isabel Marant. There are puffed shoulders, belted waists, and western-inspired elements; waistlines are high and dresses wrap. The nostalgia threaded throughout—there's plenty of '70s prairie chic and '80s boldness—makes it feel less of a space rocket trip straight to the future and more of a study only possible with time (similar to how it feels positively quaint to look at how people in decades past costumed 2020). To wit, the vinyl used throughout is that perfect mix of future-retro: Spaceship uniforms are always designed with a sheen to them, yet it's impossible to separate the fabric from so many pop culture moments of the past. When you have an aesthetic as defined as Marant, though, the setting hardly matters: They're clothes you'd want to wear in the '80s, the aughts, and beyond. —Leah Melby Clinton
Yohji Yamamoto
It stands to reason that every single fashion collection is about the maker behind it questioning themselves: What feels current, interesting, challenging, or otherwise worth investigating more? The show notes for Yohji Yamamoto's latest confirm that the runway was born from the designer wondering about "the future"—and where he landed is not entirely clear from the results. An undone feeling is par for the course at the label, but this season feels more undone than others, with backward elements peppered throughout (a vent is placed at the front of a dress rather than the back; oversized pocket linings are attached, cathedral-like, to the front of another). It's helter-skelter in a punk way, a wardrobing that says, "Sure, we might not know what we want, but there's power in that." —Leah Melby Clinton
Loewe
"The Loewe show has been canceled," read the meta invite to the Spanish label's fall 2021 collection, presented via newspaper headline. While technically that's true—designer Jonathan Anderson didn't have the standard runway with a parade of models—the show, as the saying goes, must go on. The collection is a standout one, with acrylic hues of bold yellow, reds, and whites. It's joyful; there's no other way to say it. The invite was also accompanied by an excerpt from Danielle Steel's latest novel, The Affair.
"The press called her the Golden Lioness, because she also had the Midas touch and a great head for business// Her passion and instinct for fashion had surfaced at twenty, when she was living in Paris// She said that marriage was a man-made invention that just didn't work most of the time, and children weren't for her," read one highlight.
This is the kind of woman who doesn't shy from bold gowns, fringe, and those shoes; the kind of woman who can't be kept inside too long. Here's hoping she gets to step out in these looks when they hit stores. —Kerry Pieri
Litkovskaya
A search for knowledge is what drove Lilia Litkovskaya's hand for fall, resulting in staple silhouettes and basics that display craftsmanship as part of the aesthetic appeal. Neat rows of stitches, sharp tailoring, and sculptural shapes and folds are all done at a master's level: This is the work of a student who's perfected the craft. There's a touch of the cerebral to every look, that oft-utilized term that signifies something being different. It's a thinking person's coat/blazer/dress, the piece revealing more and more each time you study it. They're classics-but-not, each worthy of staying in a closet forever without running the risk of getting boring. —Leah Melby Clinton
Rick Owens
There's something oddly comforting about watching a Rick Owens show in the middle of a global pandemic, uncompromising as they are in their biblically dark, smoke-filled vision. Owens named his fall 2021 collection Gethsemane, after the garden where, according to the gospels, Jesus spent his final night before his crucifixion. In an effort to keep the production lean and local, a rocky beach in front of Owens's own home on the Venice Lido stood in for that Jerusalem olive grove, and the camera panned wide to reveal the designer himself dressing the models.
In the Judeo-Christian tradition, rending one's clothing is a physical expression of mourning and grief, and a number of the models wore black denim slashed to within an inch of its life. Tailored jackets from which the sleeves were ripped off and replaced with jumbo duvet snap-ons also featured prominently, as did skintight leather bodysuits and Brobdingnagian power shoulders meant to parody male aggression. Every single look came with a mask—something you'd think you'd see on more runways—featuring a stylized scarf-like panel. "I have shown masks with these pandemic shows not because my masks are guaranteed protection, but because they are a vote for responsibility and consideration and an acknowledgement of our immediate collective experience," Owens wrote in his show notes. —Alison S. Cohn
Courrèges
Futurism, modernism, and all things go-go are at the core of Courrèges, the storied '60s French brand that has gone through a number of designers since its revival in 2016. Nicolas Di Felice, a protégé of Nicolas Ghesquiere, is the latest to join the ranks, and with his first collection, titled I Can Feel Your Heartbeat, he is showing why he is the right man for the job. Di Felice mined the brands archives, finding the styles that celebrate founder André Courrèges's early mod vision—miniskirts, geometric patterns, A-line dresses, jumpsuits, and a wool crepe little white dress—while refining them with looser fits. Also on offer where chic caps and, of course, go-go boots. The lineup will certainly pull on the heartstrings of Courrèges loyalists. —Barry Samaha
Chloé
The designers who have helmed Chloé read like a who's who of fashion icons—Phoebe Philo, Stella McCartney, and Karl Lagerfeld, to name a few. Today, Gabriela Hearst joins rank with a stellar intro collection that brings all the rich boheme we could ever want from the French fashion label. The presentation is 100 years to the day of the label's founder Gaby Aghion's birth. And sometimes the universe aligns, from one Gaby to another Gabi. With an emphasis on sustainable practices, an initiative close to Hearst's heart, the brand has already integrated lower-impact raw materials and put a plan in place to lower carbon emissions by 2025. But we all know the greatest way to lessen the impact on the earth is to buy less and keep it forever, and these are keep-forever pieces. The show began with a quote from the brand's founder: "There was no luxury ready-to-wear; well-made clothes with quality fabrics and fine detailing did not exist." A series of ponchos in stripes and solids opened the collection, along with knit maxi dresses. Trench coats and tailored jackets that tie at the side and dresses in leather and wool gauze rounded out a cool approach to daywear. Shearlings in cropped and long versions will certainly be a collectible hit for the brand. We can't wait to see where this sense of wanderlust traveler goes next. —Kerry Pieri
Dries Van Noten
Dries Van Noten's fall collection, shown in artful, moody images, runs the "full gamut of human emotion from happiness to rage, confusion, logic and euphoria," according to the brand. "The heightened, dramatic, exaggerated, discreet and timid all synchronize." There is a lot of emotion in these images and in these clothes: a long white shirt dress that's an updated take on one from his first collection in 1981 as a fashion student, black shorts suiting, and vibrant color-blocked gowns. All come together in that particular Dries way. Inspired by iconic shades of revered artists— including Yves Klein blue, Almodóvar red, Koons pink, and Beuys gray felt—the languid collection seems to fall off the body. Denim pieces like a maxi skirt and oversized vest lend an air of the casual, while a feathered pink and red dress is anything but. These are clothes for a life that expresses human emotion and moves about the world with ease. —Kerry Pieri
Kwaidan Editions
Hung La and Léa Dickely didn't have to look far for inspiration when designing their fall 2021 collection. The designers of Kwaidan Editions have long been fans of AtomAge, a fashion fetish magazine published in Britain in the '70s, deciding to imbue kink (however slight) with what was in front of them 24/7; in this case, their home furniture. Living room couches—especially of the brocade, covered-in-clear-plastic variety (think Marie Barone's decor)—found new life on fitted sheath dresses, pencil skirts, and coats (think Secretary 2.0; there's that slight kink). And a quilted blanket, this one in royal purple, acted like an accessory. There were also sexy silk slips, because not everything in lockdown was all about sweats. —Barry Samaha
Acne
"I was thinking about what happens when we emerge from isolation, the same but also somehow different," says Jonny Johansson, creative director of Acne Studios. "This collection is a dreamscape that begins with soft pastel colors, before awakening into monochromatic clarity, which is an ode to the white or black clothes worn for rituals in our life cycle, like weddings and funerals." That color story reads like a journey from cool spring days in knit pastels to heavier and more serious trenches and coats and high-button maxi dresses. So, yes, this fall collection does feel seasonless in a way. There's a sense of twisting and turning and layering—nothing is quite so literal or straightforward, which makes it feel interesting and fresh. Acne traffics and clothes for cool girls, and they'll be pleased with what Johansson has on offer. —Kerry Pieri
Thebe Magugu
In uncertain times, many of us look to tarot readers and astrologists for direction. Thebe Magugu, too, sought a higher power. "This season, I wanted to have a conversation with traditional healers, who have divinely been given powers to answer our most burning questions, and who act as a conduit between various realms, often by using objects of divination," he said about his fall 2020 collection. The theme of African Spirituality was reflected in sharply tailored suits and mod-inspired dresses that featured eye-catching prints of the symbols and tools used by mystics. Indeed, the way he takes the vibrant motifs of his South African heritage and places them on Eurocentric silhouettes continue to develop with every season. This clear, unwavering aesthetic leaves little doubt why he is a finalist for this year's Woolmark Prize. —Barry Samaha
Marine Serre
Like many of us, 2020 was a point of reflection for Marine Serre, a time when she evaluated the essence of her brand. The result of this introspection? A three-part presentation aptly titled Core, which consisted of a documentary, a corresponding book, and her collection for the fall 2021 season. All let viewers peer into Serre's "Ecofuturistic" world, showing her continuous heralding of sustainable fashion. On offer were her signatures: midi dresses made of repurposed silk scarves, multi-pocket jackets made of deadstock materials, and, of course, her iconic crescent-moon bodysuits. Serre is a master at giving recycled fabrics new life, designing them in a way that always feels au courant. This lineup was proof of that sentiment. —Barry Samaha
This content is created and maintained by a third party, and imported onto this page to help users provide their email addresses. You may be able to find more information about this and similar content at piano.io
Advertisement – Continue Reading Below