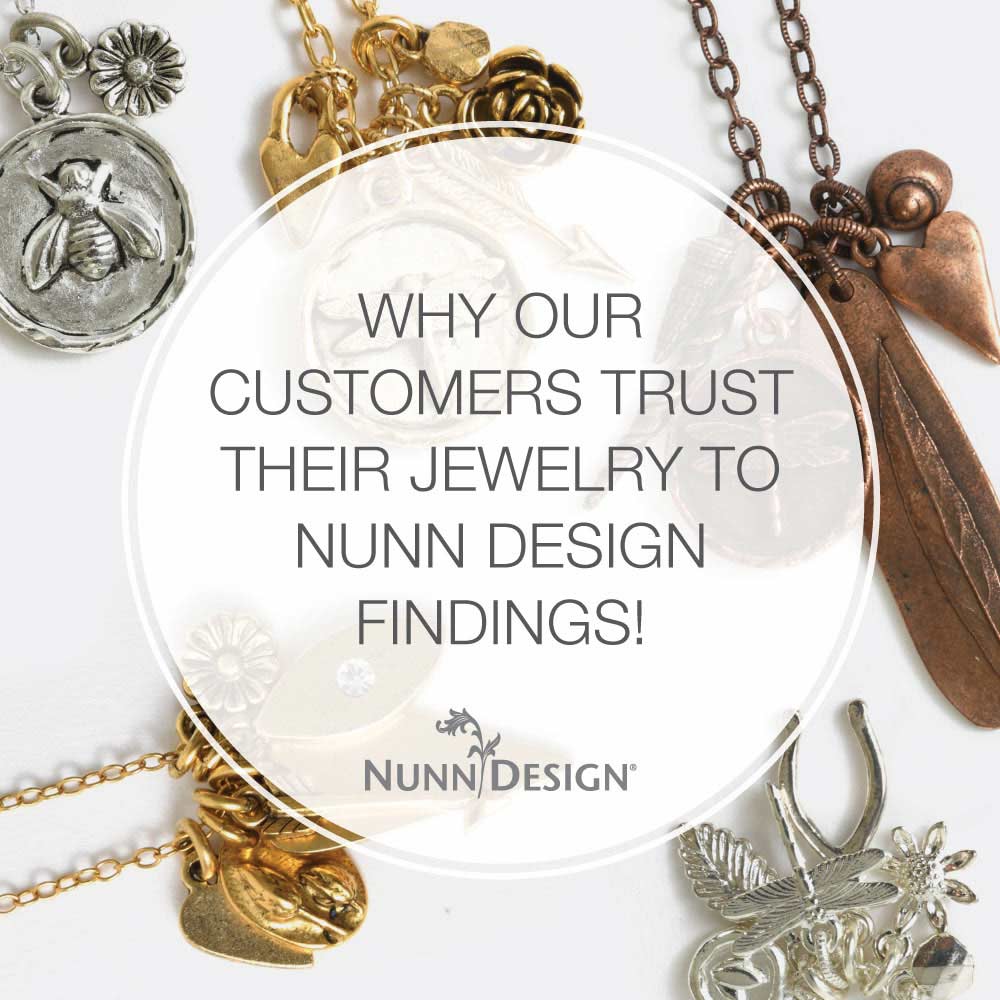 There is nothing we could say to you that would endorse our credibility more than the words of our customers. We do our very best and our customers are the first to brag on us! Thank you!
---

Janet Sanda of Sistas with Bad Habits
Over the years I have tried a number of different suppliers, but with Nunn Design Findings I am afforded a wide variety to choose from in three plate finishes that match throughout a piece. I have confidence that with Nunn Design the components will be of consistent quality on my creative end as well as for my customer. Aside from the aforementioned, being a woman owned business in the United States and one that manufactures here as well, my customers appreciate who I support with my business.
Visit her website: www.sistaswithbadhabits.com
Follow on Instagram: @sistaswithbadhabits
---

Summer of Leo and Lynn Jewelry
I love Nunn Design so much! Almost every design is based around a Nunn Design finding because the quality is unmatched. Nunn Design provides me with findings and supplies that are high quality, consistent, and I can trust to create the best jewelry for my customers.
Shop her website: https://leolynnjewelry.com/
Instagram: @leoandlynnjewelry
---

Nuby of Colourful Blossom
A friend of mine had mentioned the brand a long time ago but it wasn't until I started sculpting tiny succulent pieces, that I came across it.  After trying them out and loving them, I decided to go directly to the Nunn Design website and went crazy with the amount of findings!

The three main reasons why I trust the Nunn Design products on my creations are: I appreciate that the company gives thorough specs (or specifications) on materials for each item, the quality and plating are amazing, consistent and unlike any other I've tried before, and the customer service is remarkable.
Instagram: @nuby_colourful.blossom
Shop Nuby's website both wholesale and retail! www.colourfulblossom.com
---

Ginger of Buffalo Girls Vintage
I have been using Nunn Design findings for at least 7 years and the quality is always fantastic. The colors complement my brand and I love all of the design elements.
Shop her website: https://buffalogirlsjewelry.com/
Visit her instagram: @buffalogirlsjewelry
---

April Hiler Designs
I love using Nunn Design findings! When I first started creating jewelry, I used cheaper findings because 1.) it's what I could afford, and 2.) I still made a lot of mistakes with resin and often had to discard pieces. As I progressed and became more confident, I began transitioning to better quality findings.

I'm so happy I found Nunn Design. I feel confident that I am offering my customers quality pieces to last a lifetime. Their findings are heavy-duty and beautiful, but still very affordable. I also appreciate that they are very versatile and come in many shapes, styles, sizes and finishes.
Shop on Etsy: www.etsy.com/shop/aprilhilerdesigns
Follow on Instagram: @aprilhilerdesigns
---

Christi Friesen
Oh I love your findings, and I always have ever since we were neighbors at Bead & Button Show and I kept looking at all your tasty goodies… hmmm, that didn't come out right. But your findings have the two things that are most important: quality and uniqueness. I love them and I'll use you forever! (Yeah, that's how I meant to say that). Keep making wonderful things and I'll keep creating with them!
Visit her website www.ChristiFriesen.com
Follow on Instagram: @realchristifriesen
---
Why do you use Nunn Design Findings?
We'd love to know!
---
Shop Nunn Design Wholesale
Nunn Design has been supplying jewelry artists with findings for over 20 years. Shop wholesale jewelry findings for creative jewelry makers.
Shop Nunn Design!
---
How to Purchase Wholesale?
If you are interested in becoming one of the many designers who trust their jewelry to Nunn Design Findings, please join us by registering to become one of our wholesale customers!
Please visit our Where to Buy Page for a listing of online stores that sell Nunn Design Findings retail.
---

If you enjoyed reading this post,
please subscribe to our blog.
Here are 10 Reasons Why to Subscribe
and a place to do so!