It was archetypal couture – decadent, glamorous and "hyper, hyper femme", Roseberry said during a run-through the evening before. Designers feel pressure to make political statements through clothes, and he wanted to avoid that "dreary self-seriousness" and to "stay close to that person who fell in love with fashion", he added.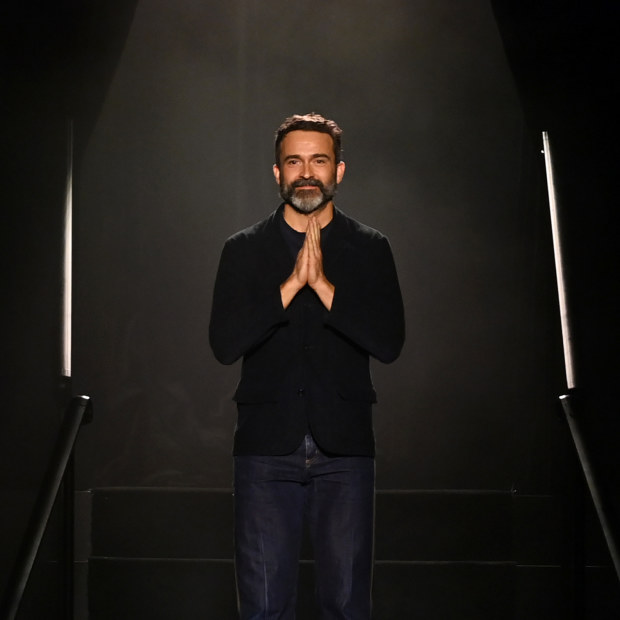 Dior's Maria Grazia Chiuri has no such qualms. She lined her show space at the Rodin Museum with vast panels embroidered with flowers and the tree of life, a favourite emblem of Ukrainian artist Olesia Trofymenko; backstage, Chiuri wore a faded "We Should All Be Feminists" T-shirt from her first ready-to-wear collection in 2015.
"I am worried it is only the beginning," she said of the war in Ukraine and the overturning of Roe vs Wade in the United States. "The risk is we adapt and don't react."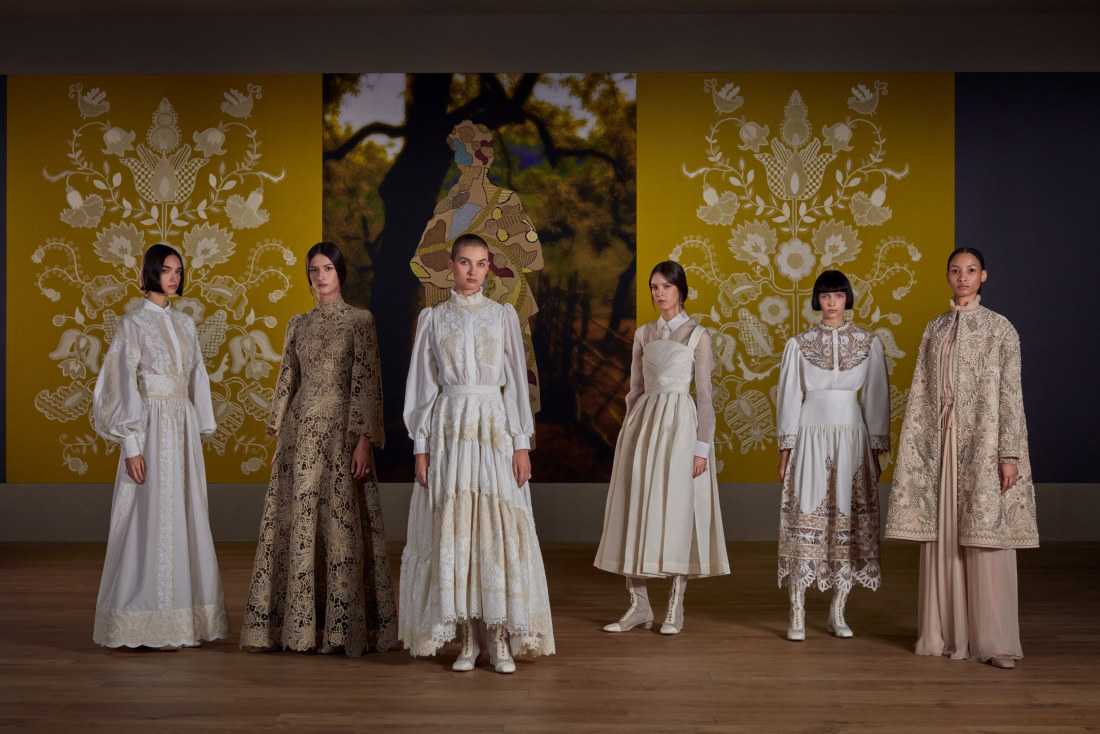 Chiuri's couture clothes are not loud. Their beauty is in their intricacy and Indian embroidery, which cannot be easily appreciated on a phone screen. In this collection, colours were soft and muted, hemlines long, with opulent jacquards supplanted by straightforward cotton, silk and tartan wool inspired by folkloric costumes. An ankle-length dress of grey woollen cheesecloth was interwoven with bands embroidered in cream mouliné, like a close-up of a pattern on a loom – a highlight.
"Couture dresses in the '50s were really heavy, not for life today," she said of the collection's lightness. "I believe they should feel well."
There was an airiness and an ease, too, at Chanel, where Virginie Viard channelled Coco Chanel in the 1930s with tweed skirt suits cut straight and long at the hip and simple wool evening dresses in moss and black with pronounced front pockets.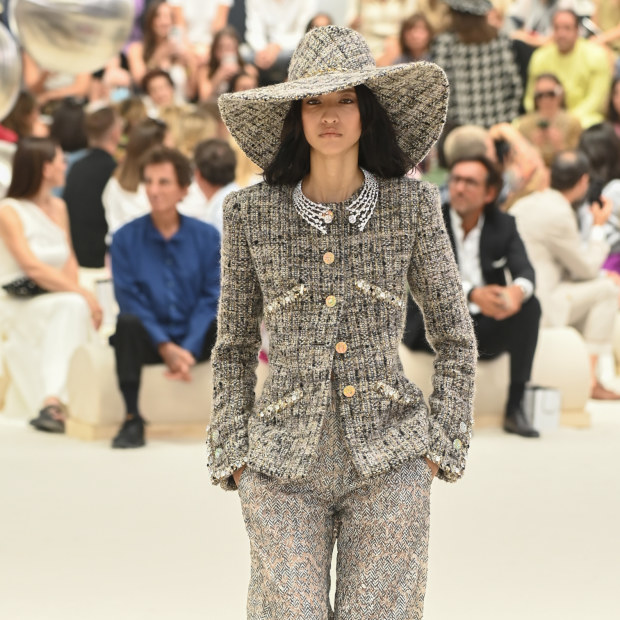 Giorgio Armani, who turns 88 next week, likewise infused his Armani Privé collection with floating fabrics and cheerful
colours – hot pink, lilac, amethyst – as Delphine Arnault, daughter of LVMH chair Bernard Arnault, looked on from the front row (a publicist quickly quashed acquisition speculation, saying they had met at one of her Cheval Blanc hotels and she attended merely as a friend).
Though light and wearable, the beaded jackets and silk pleated trousers looked dated, sometimes matronly. "It has been the season of terrible trousers," a seatmate said. He isn't wrong.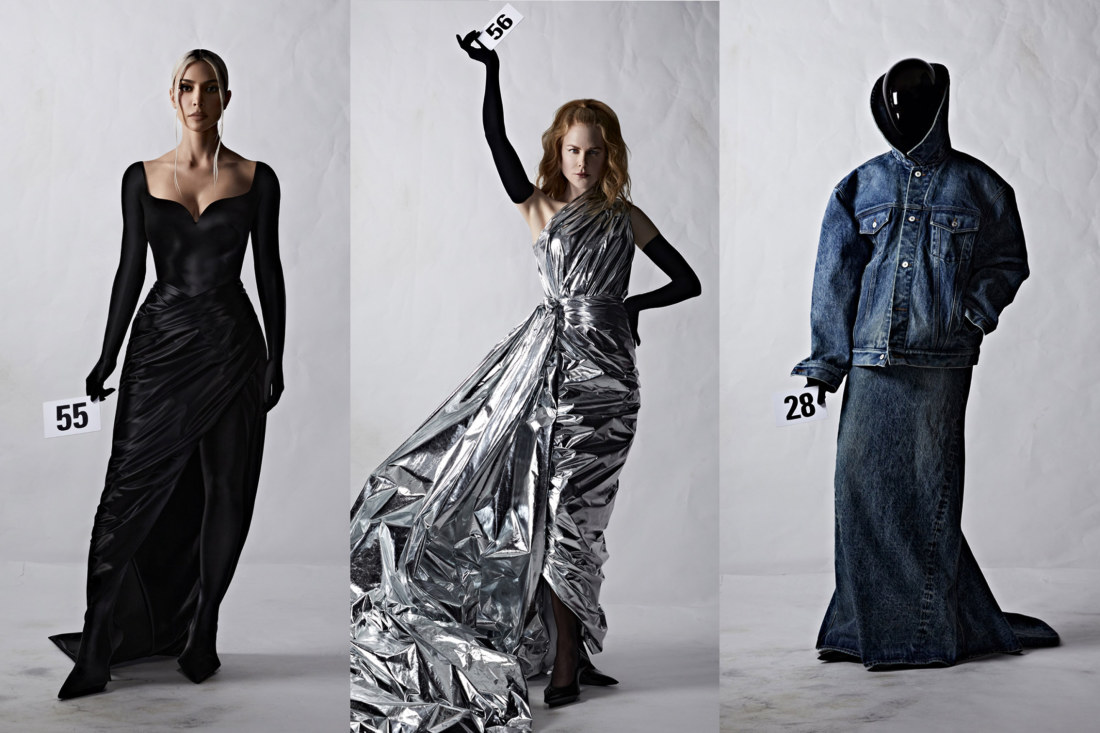 What a contrast, then, to behold Demna Gvasalia's second couture collection for Balenciaga the following morning. Held in the same 10 Avenue George V salon where Cristóbal Balenciaga once enthralled his clients with his two-hour shows – one of his original models came out of retirement to walk in this one – Gvasalia sent out men and women of many ages in black neoprene scuba suits and dresses that moulded to their bodies like a second skin, their faces masked by smooth black helmets that gave them a menacing, alien look. The neoprene was technically "very hard" to work with, he said afterwards.
Gvasalia and his teams of designers and seamstresses eschewed the traditional materials of the craft elsewhere too: straight-leg jeans spliced from old pairs and left frayed at the seams, an oversized red T-shirt draped as if it were silk underpinned with wire or horsehair (an underlayer of aluminium kept its shape), and silk embroidered to look like fur. It was couture, made modern. Impressive too were the casting "gets": Dua Lipa, Kim Kardashian, Nicole Kidman (her husband, Keith Urban, sat front row).
In theatrics, it was rivalled only by Maison Margiela's John Galliano, who in lieu of a traditional runway show live-recorded a half-hour film in the analogue manner of Old Hollywood.
Models wielded fake guns and lip-synced to pre-recorded dialogue, enacting a gothic Western in which the protagonists are on the run from a double parricide. The darkness of the set left little opportunity to appreciate the medical scrubs turned couture coats, bark-cloth trousers worn by the dozens of models in the production, but it worked as entertainment and a brand-building exercise. Margiela is the fastest-growing brand at Renzo Rosso's OTB group.
Working, too, is Pieter Mulier's gentle remaking of Richemont-owned Alaïa in the wake of its founder's passing in 2017. Although what he showed is technically ready-to-wear, it might have passed for couture, so precise were the cuts of the subtly textured bodysuits, hooded dresses and crocodile-embossed leather coats shown in the concrete guts of a future Alaïa store.
Mulier is cementing the house codes and carefully commercialising them, with belts and bags that have plenty of potential at retail. But for it to be better understood as ready-to-wear, and not as demi-couture, it ought to join the ready-to-wear schedule.
As for the point of couture amid a cost of living crisis? My favourite response of the week came from Schiaparelli's Roseberry, whose mother had recently asked whether he ought to design more affordable clothes. "And I said, Mom, my life was not changed by going to Target."
— Financial Times