SEVEN ESSENTIAL RELEASES

Essential Releases: Cosmic Jazz, No Wave, Experimental Dance and More
By
Bandcamp Daily Staff
·
October 16, 2020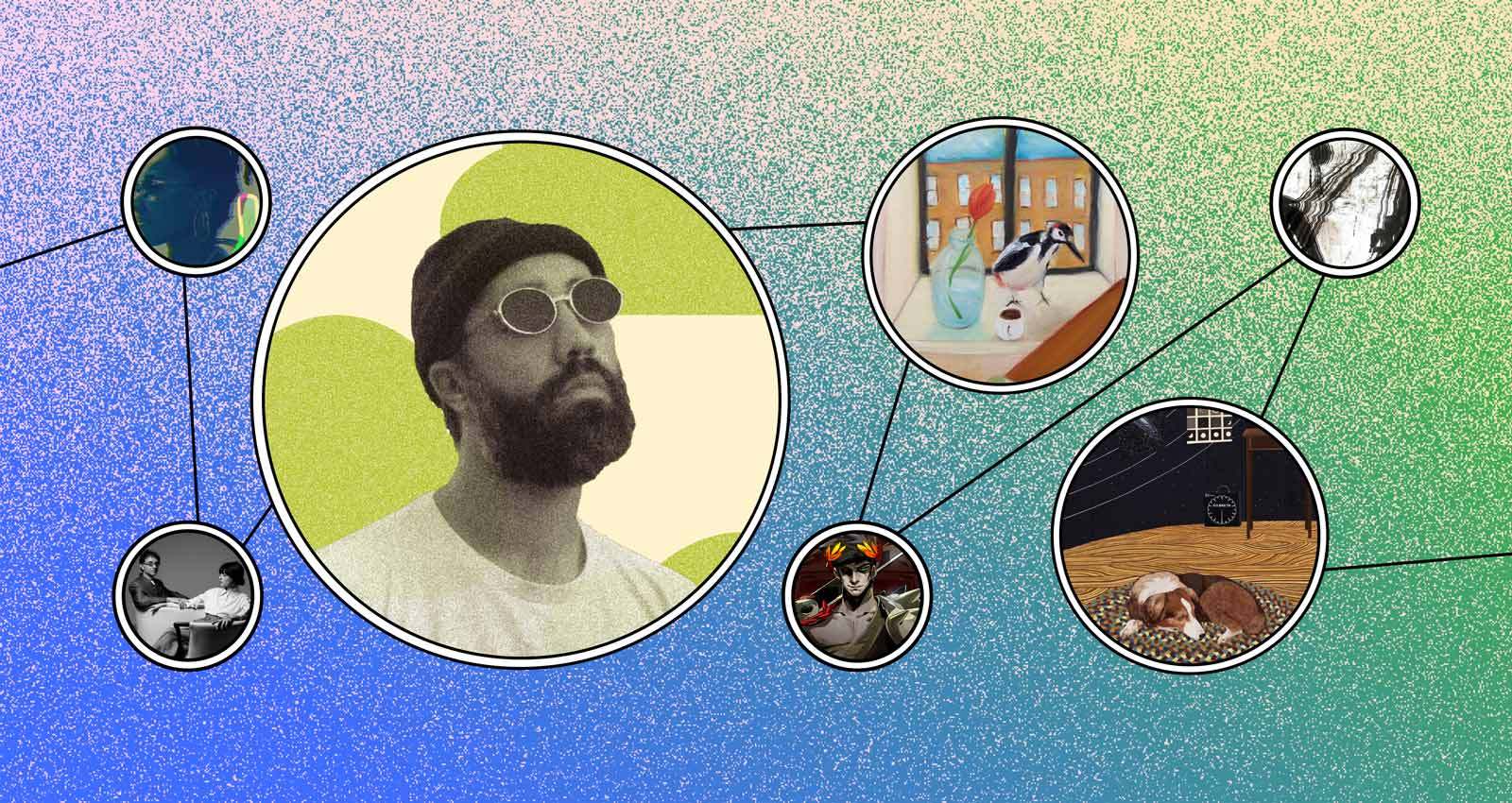 Welcome to Essential Releases, our weekly roundup of the albums that we can't stop playing, and that we think you need to hear.
Duendita, née Candace Camacho, takes her name from the literary term duende which means a heightened sense of emotion and authenticity. Her 2018 debut R&B album direct line to My Creator is a poetic ode to the divine and the ecclesiastical. Camacho's interest in the spiritual—both within herself and the world at large—is infused into every song on the album. The delicate synths of the brief "Blue Hands," are well married to the lyrics: "This is a prayer for my kind, I wish you a long, long, long Black life." Voices and ambient sounds make up the melody for the somber "Pray" which tells listeners: "Get lost in somebody before this shit ends. Grab the first human being you see. Tell them you love them." The melancholy "Magdalena" recounts the passing of a loved one and starts slow before ending with a hopeful reprise. Camacho's thoughtful, introspective music seems even more relevant this year during my most recent listens as winter's darkness slowly approaches.
.
00:10 / 00:58
maassai's outlook is crystal-clear on ve·loc·i·ty, her collaborative album with producer JWords: She's not with the fakeness, so keep the half-hearted praise and counterfeit love to yourself. And she doesn't care about what you're doing, she's too busy bettering herself. "I am whole and complete by myself," maassai declares on "breathe thru it," one of many meditative highlights on the album. "My reliance on external forces does not allow me to progress within myself, but instead hinders me from true introspection and self-evolution." The mindset is noble: In an era where likes and retweets are thought to validate your worth (they don't), she's reconnecting with herself beyond the artificial BS. Under the name H31R, maassai and JWords have created a compelling record of self-affirming rhymes and psychedelic beats that, with their cosmic synths and irregular time signatures, seem aligned with beat scene stalwarts like Suzi Analogue and Flying Lotus. On "sumshit" in particular, JWords flips an old French jazz cut into an unconventional soundscape for maassai's battle-ready flow. "precious silence" is a mid-tempo groove with a loud bounce; on it, maassai laments a perceived lack of support: "Only thing that stay the same about y'all n***as is y'all change-up / …Call on n***as then they hang up." In the end, ve·loc·i·ty shines because it's so forthright. Too bad if you're on maassai's shit list.
Il Quadro di Troisi is the synth-pop project of renowned producer Donato Dozzy (aka Donato Scaramucci) and synthesist/composer Eva Geist (aka Andrea Noce), both of whom are known and beloved for creating lush, intensely atmospheric work. Both are Italian by birth (though Noce lives in Berlin), and this particular project is very much a love letter to their home country, conceived as a collaboration not just between Noce and Scaramuzzi but between the Raster label and Italian experimental festival Terraforma. The result is pure ear candy, both minimal and melodic; even in the most luxe, cinematic moments, like my favorite track, "Intenzioni," with its heartstring-tugging synth strings, there's plenty of space between the layers. There are clear references to Italo disco on tracks like "Sfere di Qui," "Raggio Verde," and "Real," but while that subgenre is known for delightfully maximalist neon cheesiness (call it the Velveeta of electronic music? This is not a knock, I think Velveeta is delicious and will passionately defend it), Scaramucci and Noce pull it apart with care and polish each element (big synth chords, sweet and swooning upfront vocal melodies, bouncy drum machines) until they all shine like silver. The reverence they have for it, as well as for '70s and '80s soundtrack work and Italian underground pop from the last handful of decades, is clear. Noce's soprano, often layered to gorgeous effect (as on "Se ne va") is absolutely perfect for the project; she never pushes it too hard, allowing for a kind of understated emotion that carries further in this context than belting it out would.
–Jes Skolnik

Less than a month after its release, the consensus is clear: Hades, the Ancient Greek-inspired roguelike from Supergiant Games, is the best indie game of 2020, and a strong contender for game of the year. Its heartfelt, multifaceted story, coupled with the constantly evolving-yet-accessible game mechanics have set a glorious new standard for the subgenre, amenable to veterans and newbies alike. I've sunk 15 hours into Hades in the past five days alone—that's coming from a roguelike cynic with the attention span of a squirrel, mind you—largely thanks to Darren Korb's kickass soundtrack, which offers two-and-a-half hours of Grecian musical goodness. The best game scores don't just reflect a game's aesthetics and themes; rather, they carry out an active conversation with them, broadening the game's universe through the clever use of leitmotifs, audio cues, and dynamics. That's exactly what Korb does here, with arrangements that reveal more delights the further you venture in—particularly Ashley Barrett's vocals, which put a serene R&B spin on traditional Hellenic balladry. Just like in Hades writ large, the songs get more complex and dramatic the further you venture in; "In the Blood" sounds as opulent as it does is precisely because—spoiler alert—the average player probably won't hear it until they're 50, 60 hours in. (I'm still working on that, myself.) Gamer or no, give the Hades soundtrack a go.
It seems almost sacrilegious to "review" Mary Lattimore's shimmering Silver Ladders. It's as if breaking down the record in a material sense would be an affront to the power that comes not from its individual parts, but from the aura of sublimity it creates as an integrated entity unto itself—and to overemphasize the latter at the expense of the first would run the risk of falling into cliches about healing sounds and shit like that. How does one communicate the feeling of dwelling in a holy space? It's difficult primarily because it's a solitary experience that's meaning is wholly dependent on the one to whom it is happening, and so is rather like listening to music in that way. Perhaps that is why experiencing the wordless, emotionally resonant Silver Ladders feels like a gentle musical immersion into one's own heart space, with Lattimore's threadlike harp lines curling and uncurling into shapes both beautiful and eerie as she submerges the listener into ever-darkening depths of sound, occasionally under-lit by grim synths and Neil Halstead's gloomy guitar. The journey downward is calming and safe, but where it leads is entirely up to you.
Doug Stuart (aka Dougie Stu) is a Chicago-born multi-instrumentalist, producer, and composer based in Oakland and Los Angeles with a background in soul jazz, hip-hop, and R&B. Inspired by the Association for the Advancement of Creative Musicians since his teens, and an alumnus of the University of Michigan's storied Jazz and Contemplative Studies program, he currently splits his time between composing for NPR's Snap Judgement podcast and working alongside artists ranging from Luke Temple to Brijean. Arriving this week via Ropeadope, Stuart's new album Familiar Future is a polished, dynamically rich astral jazz suite supported by an esteemed cast of session musicians including Tortoise's Jeff Parker on guitar and Georgia Anne Muldrow cohort Maya Kronfeld on piano, among others. On highlights like "Another One For Slug" and "Henny," Stuart and friends stack sumptuous textures like Jenga blocks, leavening psychedelic haze with cinematic flourish; by contrast, tracks like "BB's Birthday" are all about percussive inertia, bongos and snares firing on all cylinders until a loping bassline sends them tumbling down at last. Keep your eyes and ears on this man—the vibes he brings to the table on Familiar Future are nothing short of supreme.
A peek behind the curtain: File Under UK Metaplasm, the mind-melting new record from the UK producer Rian Treanor, is the kind of record that I sign up to write about because it has dominated my turntable ever since I got it; then, when I actually sit down to write about it, I find myself thinking, "How the hell do I even begin to get my head around this thing?" The answer is: "You don't." The whole thrill of listening to Metaplasm is accepting the fact that you haven't got a fucking clue what is happening at any given moment. Treanor runs every variant of electronic music through an atomizer, boiling it all down to split-second tones and then spattering them Pollock-style across frantically hiccuping rhythms. It sounds like someone trying to play Atari while stuck inside an active Gravitron. It's music that's easy to get academic about—sometimes when I'm listening, I try to identify the blink-and-you'll-miss-'em gestures toward jungle and rave—but is more fun to just dive into. The track I'm currently obsessed with is "Metrogazer," which opens with a wormy, Aphex-Twin-like synth melody, then introduces a hi-hat rhythm that sounds like it was pulled from another song entirely; a freaked-out bass beat races to the fore, and the rhythm changes again—all while Treanor keeps the central synth melody yo-yo-ing along in the background. On Metaplasm, Rian Treanor condenses the entire history of UK dance music down to microsecond bursts. At least, I think that's what he's doing. I'll let you know after a few hundred more listens.