15:09
They take to the floor to Justin Timberlake's 'Can't Stop the Feeling'. Bah, I will miss them both.
And on that blow, that's it for another week on Strictly! Next week it's MUSICALS WEEK, which is a bit like Movie Week but with less budget and more jazz hands. Kick off is at 7.25pm, so please join me then! Thanks for joining in, you are marvellous. Hx
15:08
Clara had massive potential, but I have to say that Jamie hugely raised his game this week, and Clara needed something special after last week's issues. It pains me to say it but I can't argue with that decision.
And poor Aljaz, having to leave Strictly wearing a poo-coloured velour t-shirt.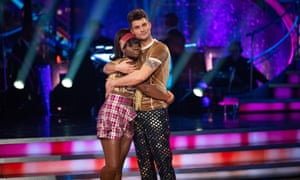 Updated

15:05
Judging time! It's a tough decision, Craig saves Clara and Aljaz, but Motsi saves Jamie and Karen. Which means it's down to Shirley, and she saves JAMIE AND KAREN. Clara looks devastated, I'm gutted for her.
Updated

15:02
Time for Jamie's and Karen's chess Tango again. Still gappy, but also still a very solid Tango and it's very clear how badly Jamie wants this. No idea how this judging is going to go, although I suspect Jamie might edge it.
Updated

15:00
Time for the dance off! First up it's Clara and Aljaz. This is a much better start, and there are far fewer mistakes, even though it's quite stompy. By no means error-free, but considerably better than last night. Even if she goes out tonight, it's lovely that she's had the chance to do this routine again. Nice work, Clara.
14:55
Time for a musical interlude, courtesy of human marmite Gary Barlow, who is singing his new single 'Elita'. Personally I'm very much in the 'he's a great singer and songwriter, wouldn't want to go on holiday with him' camp, but I'm sure he'll bear this blow with fortitude.
Nadiya and Graziano and Johannes and Luba are busting some Latin moves, and apparently this song is Barlow's attempt at Cuban rhythms. It's no Despacito, but I don't hate it.
Don't dance, Gary. You look like you need the loo.
14:52
I'm sorry, did Bill and Oti just say they're doing a Phantom of The Opera Argentine Tango? Good LORD. Bring on next week.
14:50
So who's joining Jamie and Karen in the dance off? Ranvir and Giovanni are safe, along with Bill and Oti!
Which means CLARA AND ALJAZ are in the dance off!
OK so this is interesting, because Clara has the opportunity to MASSIVELY improve this routine, and that could save her. COME ON CLARA.
14:45
Time for a dance interlude from the winners of this year's Greatest Dancer. Is that show still on? I had no idea. They're very bendy, and at one point she gets spun round by her face, which looks quite painful.
14:42
So the kilt and the spinny Waltz got JJ through for another week, and next week they're doing a Chitty Chitty Bang Bang Charleston. It's going to be different, and I think that's a very good thing.
14:38
So who is dancing again next week? Maisie and Gorka are safe (oh that's good news), along with JJ and Amy and HRVY and JNTT.
First couple in the bottom two: JAMIE AND KAREN.
So that's what we predicted last night, definitely feel like this week's dance off is going to be very close.
14:35
Last night on Strictly:
Tier 1: The romance I've created in my head between Ranvir and Giovanni, everything Bill and Oti do, Maisie's grit, Claudia's blouse, Amy's dress.
Tier 2: Queasy CGI, HRVY's contempo-street (sorry watched it again and still not feeling it), JJ's kilt (yes but can he Salsa in it?), Tudor Queen Motsi.
Tier 3: Clara's Jive, Aljaz's outfit (bleurgh), Couple's Choice generally, rooftop CGI, all the screaming.
Ambivalent zone: Jamie's Slytherin Tango, Craig/Anton doing panto beef. Meh.
Updated

14:32
TESS AND CLAUDIA DRESS WATCH: Tess in white trousers with a cream blouse featuring a vicar's dog collar, and Claudia in something black and ill fitting.
What IS that around Tess's neck? It looks like she's got whiplash.
14:30
And we're off! Tonight's opening pro dance is to The Weeknd's 'Blinding Lights' and features dreadful 80s outfits and a variety of neon plinths. Graziano has a Bjorn Borg headband and a great deal of double denim. Feel like this one was thrown together in a bit of a hurry, to be honest.
14:25
Knocking on doors to hand out jars of quince jam made from a neighbourhood tree is Peak Hackney.
Also this episode of The Crown is rubbish, it's just Prince Charles banging on about trees.
14:17
Tonight's Countryfile Casual Weatherperson is the charming Darren Bett, who's gone for a purple check shirt tucked into grey jeans. It's a valiant effort, but the lack of forearm action and the modesty neck button makes it a 7/10 at best. Less Darren Bett, more Darren Could Do Better.
14:13
Lovely Craven segue from 'plant trees' to 'buy my calendar' there. The man's a master.
13:58
During all my visits to The National Arboretum, I've never abseiled up an oak tree while a woman from Forestry England yells at me from the ground about blue tits, bats and nut hatches. Feel like I've missed out.