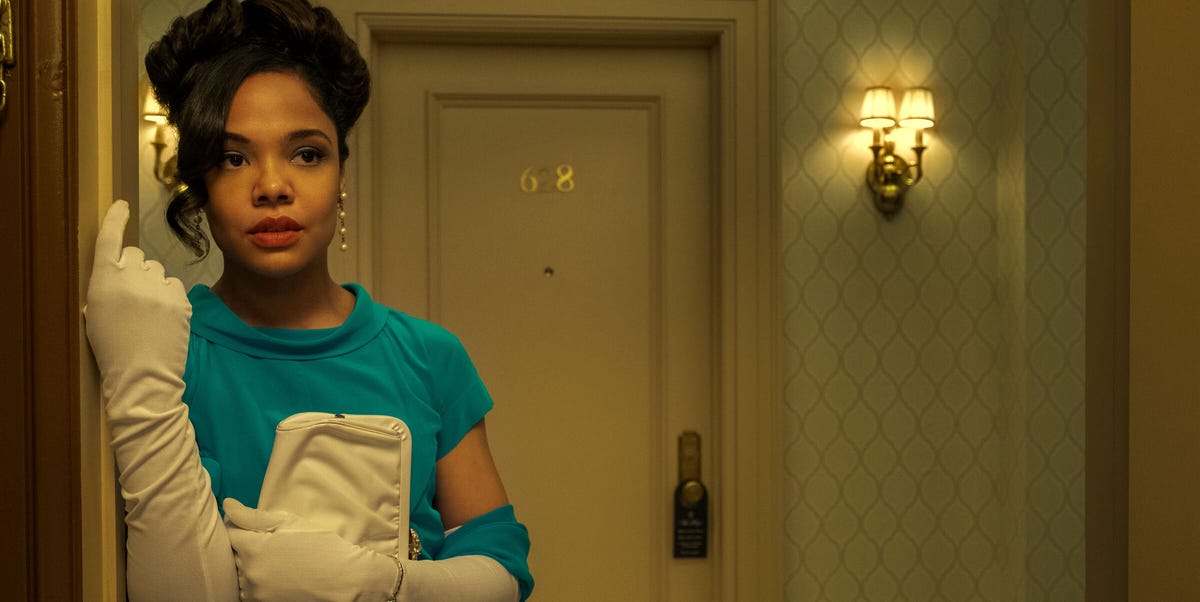 The Sylvie's Love Costumes Take Contemporary Chanel Back to the '60s
Initially dismissed as "women's movies" (or, even more condescendingly, "weepies"), the work of German director Douglas Sirk explored love, life, and the career aspirations of women protagonists in the '50s and '60s, and later, were lauded as progressive proto-feminist fare. Sundance darling Sylvie's Love travels back in time to this melodramatic Sirkian oeuvre, with writer-director Eugene Ashe rewriting history to give Black stories and a majority-Black cast representation in the lush romantic canon of Old Hollywood.
With the Harlem jazz scene as the backdrop, Sylvie (Tessa Thompson) dreams of becoming a television producer while embarking on a star-crossed romance with saxophonist Robert (Nnamdi Asomugha). The movie touches on the Civil Rights movement and sexism in the home and workplace while telling the classic story of a young woman finding herself, her goals, and true love—a time-honored Hollywood staple.
Of course, costume designer Phoenix Mellow—whose résumé includes period pieces Hollywood and Mad Men—took a page from the glamorous Golden Age of Hollywood playbook. She and Ashe regularly referenced the 1961 classic Breakfast at Tiffany's in discussing iconic moments of the period; Audrey Hepburn established the cultural impact of the Little Black Dress in the film's opening moments, making her dramatic entrance in front of the Fifth Avenue flagship in a black satin column gown designed by Hubert de Givenchy. Working off that principle and on a limited indie budget, Mellow reached out to her contacts at Chanel and sent her mood boards as part of her overture. The stars aligned, as Thompson has a close relationship with the Parisian design house, often wearing Chanel on the red carpet and sitting front row at the house's runway shows. The brand was more than happy to open up its contemporary archives for the production.
For the mood- and story-establishing opening scene of Sylvie's Love, our heroine waits outside a Nancy Wilson concert in the Theater District. She's an absolute dream in a vibrant blue cap-sleeve gown. With an artfully tucked empire waist and cowl-collar neckline, the dress looks very mod—but it's actually from the Chanel Resort 2011 collection.
"It was going to be that Jackie O. moment with the matte gloves," Mellow explains. The striking scene also incorporates former recording artist Ashe's inspiration: jazz icon Wilson posing on Hollywood Boulevard for the cover of her 1963 album Hollywood—My Way. Mellow finished Sylvie's stylized 1962-set look with lucite heels, a white patent clutch, and vintage pearl drop earrings accenting her wispy updo. She also dyed the gracefully draped shawl to match the director's specific vision of cyan for the riveting moment.
Possibly stood up, Sylvie debates her next move outside the theater. Then, she looks up and locks eyes with Robert, who happens to be rushing by—and two long lost loves from another life reconnect. "As soon as I saw the yellow taxi outside [in the scene], I was like, 'Ah! This is the moment!' That has to be the poster," Mellow exclaims. "It was just like shining a light on her. When we saw Tessa in that dress, it was so right."
The movie's timeline then jumps back five years. Pixie-haired Sylvie works in her father's record shop in Harlem, awaiting her affluent and ambitious fiancé Lacy (Alano Miller) to return from the Korean War. Illustrating the family's prominence in their community, Sylvie's mother, Eunice (Erica Gimple) runs an etiquette and comportment school in the neighborhood. She sets high expectations for her dreamer daughter, who's more captivated by the black-and-white TV screen in the shop than customer service.
For Sylvie's '50s-era costumes, Mellow looked again to Old Hollywood inspirations, including actress-singer Diahann Carroll in the 1954 musical Carmen Jones, Natalie Wood in 1958 romantic drama Marjorie Morningstar, and Hepburn, again, in the 1957 rom-com Funny Face. The costume designer also studied Ashe's old family photos for heartfelt real-life references.
"I wanted to keep her very serious, almost understated. Her mother needs to approve of her outfits almost," Mellow explains of Sylvie's vintage button-up cardigans and daintily decorated blouses. "Her mother wants her to have a great life, raise her for a 'good society.' She wants Sylvie to be well-off and is trying to look out for her."
But Sylvie's still a young woman tuned into (sorry) the latest music and television, so Mellow incorporated top trends of the era. "There's that teenage culture," she says. "I brought in the rock 'n' roll denim for her. The turtlenecks were very popular and the cropped cigarette trousers, but not overly sexy for her. There's still a youth and innocence about her relationship and her life."
One day, upstart sax player Robert wanders into the store and is immediately intrigued by Sylvie, who's watching TV in an Audrey Hepburn-esque short-sleeve black turtleneck. He applies for a job, and after a fortuitously accidental—and romantic tension-filled—scenario finds the two locked in the basement, Robert invites Sylvie to watch his jazz quartet play at the Blue Morocco club. Sylvie may be resisting her attraction to Robert, but their connection is repeatedly illustrated through a palette of blues in their wardrobes, from her t-shirts and scarves to his sapphire brocade tux for evening.
Sylvie dresses up for the night in a bateau-neck, cap-sleeve, New Look-shaped dress. The sheer black tulle overlay, with an embroidered swirl pattern on the skirt's champagne lining, illuminates under the street lights during their walk home. Per Mellow's thoughtful signature, Sylvie's decorative accents—t-strap heels, a black wrap, and sheer gloves, a summer trend in the still quite proper '50s—create another picture-perfect moment.
"That is a vintage dress that we really had to repair, touch up, and add on some missing pieces," explains Mellow. "That look for me was very Audrey Hepburn in Roman Holiday, Love in the Afternoon, and even Funny Face. It feels so elegant and chic. She's showing up to this club to see this guy that's not her husband. She doesn't want to stand out and seem like she's showing off to him in any fashion. She is opposed to falling in love with this guy. I didn't want her to show up and be super flashy. Letting it all be simple…simple love."
When the story moves forward into the early '60s, Sylvie is restless in her next stage: settled in New Rochelle, married to Lacy, and raising a daughter. He works at a successful agency of some sort; she's working as a phone operator at a television network—but so close to joining the producer track. Mellow's cinematic inspiration also progressed into the following decade: actress, playwright, and civil rights activist Ruby Dee; Mary Tyler Moore for Sylvie's domestic life with daughter Michelle; an early '60s image capturing a caped, skirt suit-clad Lady Bird Cleveland enjoying a day at the Bronx Zoo with her daughter (and future model) Pat; and the initial Paris-meets-Old Hollywood concept.
This content is imported from Instagram. You may be able to find the same content in another format, or you may be able to find more information, at their web site.
"I introduced the Chanel pieces into her '60s wardrobe, which is a more elevated, elegant style now that she's a working woman," says Mellow. "She's professional and also fashionable." Mellow and Ashe pored over years of Chanel lookbooks and runway images to find the most evocative pieces to fit the script and character arc. "We were both very involved in it and we didn't ask [Chanel] for too, too much, either," explains Mellow. "I had a very clear vision of what I wanted to ask for."
Two Chanel looks bridge Sylvie's personal and professional journey, the latter of which takes off after she lands an assistant job to groundbreaking producer Kate (Ryan Michelle Bath). For her company's New Year's Eve party, Sylvie stuns in a long black sequin Chanel gown with a structured silk satin cowl neck from the Fall 2017 collection. Per Ashe's script notes, as mentor and mentee, Kate and Sylvie would be linked by wearing "little black dresses."
"I was looking for the right silhouette for her, and it just needed to be the perfect thing. That sequin gown is gooooor-geous!" says Mellow. "That white collar framed her face so perfectly. We did a rhinestone earring, then the velvet opera gloves, the velvet belt, and these awesome shoes with rhinestone buckles. She needed to be this beautiful statue that Tessa is. It's such a high moment."
Sylvie wears her final Chanel straight from the studio to meet Robert at a Chinese restaurant, where he struggles with chopsticks and the two discuss the possibility of a future together. She enters in a below-the-knee navy dress with a wide standup collar adorned with an exquisite lone button from the Fall/Winter 2012 Act 1 collection. The sculptural neckline creates a striking visual for lingering close-ups, especially amidst mood lighting from red lanterns and flickering votives. The pared-down but devastatingly chic look, accented with rhinestone-embellished hoop drop earrings, extends Sylvie's new power position at work to dinner with a noticeably nervous Robert.
Thompson went through over 50 changes in the film, which was shot in just 27 days. Mellow estimates the costume breakdown overall: "80 percent was vintage, 10 percent was made, and 10 percent modern." She sketched and custom-designed pieces, like the spectacular Blue Morocco dancer costumes and Sylvie's repeated classic trench coat.
For the vintage encompassing the bulk of the film, Mellow scoured shops in Los Angeles, including Golyester, Squaresville, Starday Vintage, and The Bearded Beagle, plus industry rental houses like Western Costumes, Palace Costumes, and Motion Picture Costumes. Mellow is also an avid vintage collector, and she generously loaned treasures from her own collection, including many of the silk printed scarves artfully adorning Sylvie's hair and neckline, statement jewelry, clutches, and even period-authentic foundation garments to help fill out the definitive '50s and '60s era silhouettes.
"It's a very personal connection to this film," says Mellow. "I'm just excited to have some beautiful fashion in it."
Watch Sylvie's Love on Amazon Prime
This content is created and maintained by a third party, and imported onto this page to help users provide their email addresses. You may be able to find more information about this and similar content at piano.io