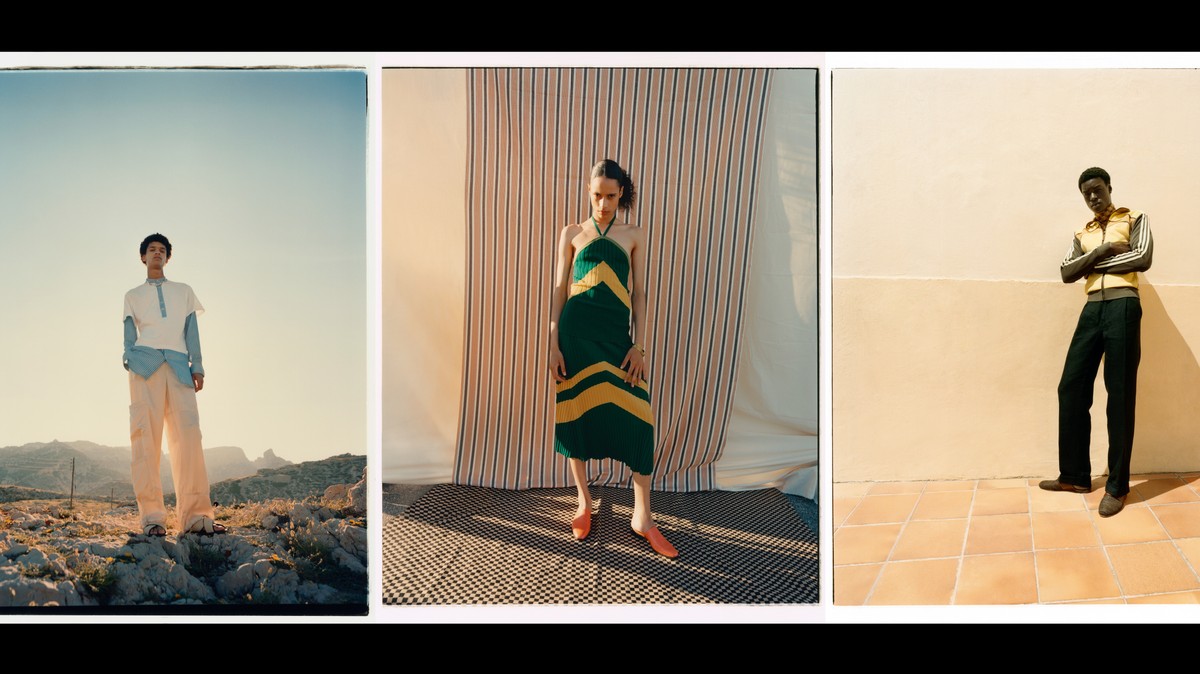 Wales Bonner SS22 celebrates the 'golden age'
Photography Joshua Woods. Images courtesy of Wales Bonner
Before you read on, hit play on the playlist below and ask yourself: 'What does this music look like?' It may sound like the sort of question that requires a heady psychedelic experience to be able to answer, but for Wales Bonner's namesake founder, Grace, it's the question she's returned to season after season — her SS22 collection, Volta Jazz, being no exception. Of course, it's hardly the simplest of challenges to set oneself, and even after six years of working, it's still not one that the designer would say that she's wholly achieved. "It's kind of an impossible task," she concedes, "but that's why I always keep coming back to it." 
After a triptych of collections that explored the sociohistorical and cultural webbing that binds the UK and the Caribbean — through the respective prisms of 70s lovers rock, early dancehall and the poetry of Derek Walcott — SS22 sees the designer shift her focus to the belle époque of post-independence Burkina Faso (formerly Upper Volta), specifically to the Bobo Yéyé scene that flourished throughout the 60s and 70s in the country's second-largest city, Bobo-Dioulasso. 
"Music is so holistic and integrated with a lifestyle, a way of living and a way of dressing," she says of her focus on sound as the conceptual jumping-off point for her process. "But the fact that it's intangible means that I have to study it through photography and the culture around the music, and find ways of interpreting that through clothing." This season, the key visual foil to Bobo Yéyé's twanging steel guitars and syncopated drumming was the work of Burkinabé photographer Sory Sanlé, the most important chronicler of the genre's heyday and its defining orchestral group, Volta Jazz.
While this may be the first time that Grace has explicitly focused on the proud tradition of West African studio portraiture, it bears noting that the impact that Sory's work, as well as that of Malian photographer Malick Sidibé, have left on her practice goes much further back. "If I hadn't seen those photographs, I wouldn't be designing," is her matter-of-fact confession. "They're some of the first things I looked at that inspired me to become a designer."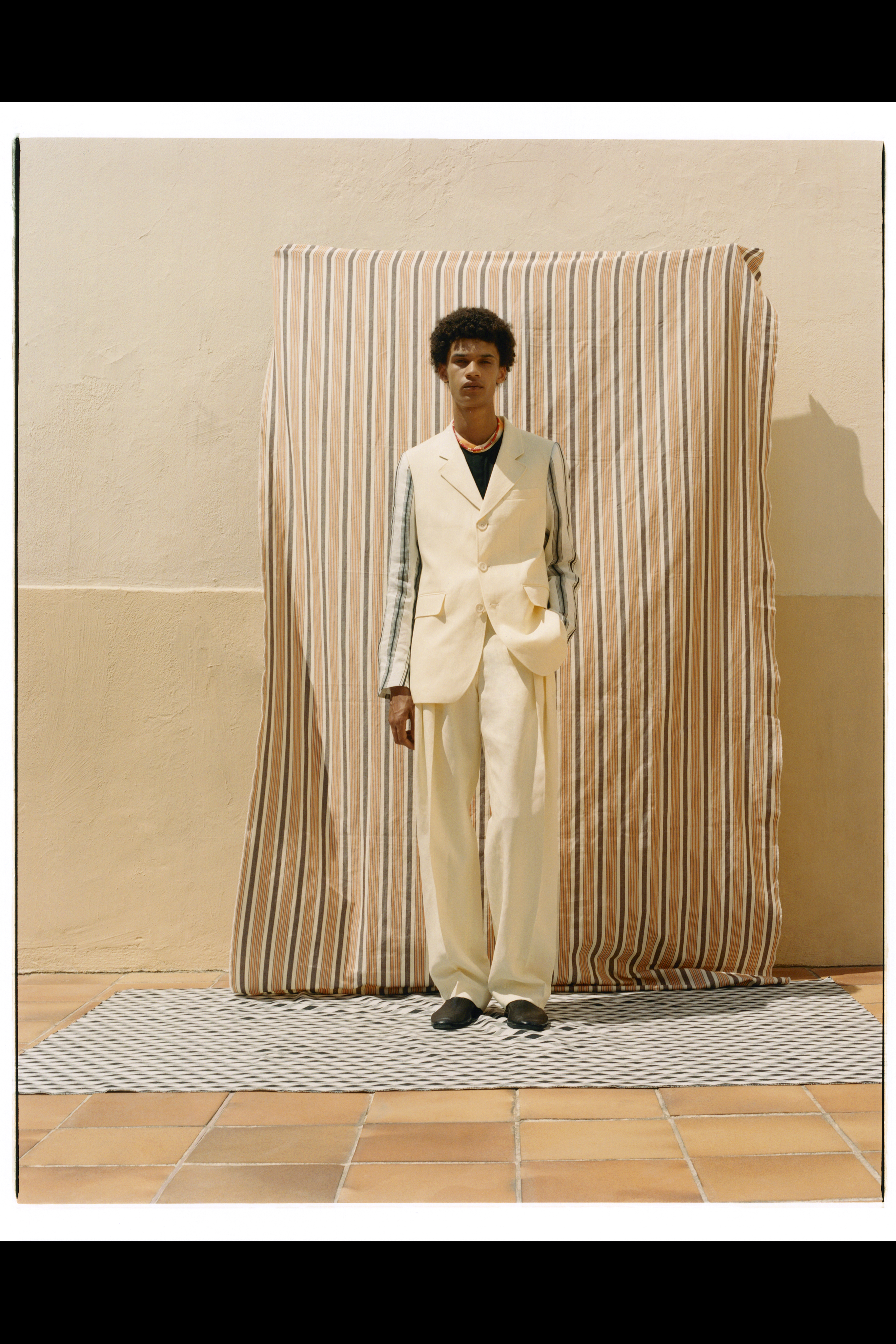 Of course, broaching topics and themes you've long revered can be challenging territory to navigate. How do you do the theme justice? And how do you honour such a powerful cultural legacy, while also carrying it forward? Of course, practice makes perfect, and it was with justified confidence in the experience and body of research she's accrued over the past six years that she took on the task. "With the perspective I have now, I feel like I can go deeper into subjects, and reveal and expand on more of my process," she says. There's also a sense of liberation — I feel like I've previously done collections in such a specific way, but I now feel able to sample and reference things in new ways. There's no sense of obligation and I feel able to be free, playful and optimistic."
And by God does it shine through here. Bringing a zesty freedom of spirit to the cerebral verve she's long been known for, this is perhaps Wales Bonner's most seductive, generous collection to date. Nodding to the "sense of performance and dressing up" in Sory's studio portraits, and the jubilance that emanates from his images of chic revellers in Bobo-Dioulasso's streets, this season's predominant silhouette is generous without compromising on elegance. Linen tailoring is amply cut, with wide-leg suit trousers and cargo pants pooling at the ankle, and single-breasted, notch-lapelled jackets with striped sleeves sitting wide on the body. The hems of cropped marigold silk yoga pants, part of this season's Adidas Originals collaboration, flutter about the lower calf, while crisp cotton poplin dashikis rustle against the skin in a breeze. 
"I wanted to create more freedom and spaciousness in the silhouette — tailoring that has room," Grace says, highlighting the attention paid to the climate implicit in the images she studied. "It was nice to see people getting dressed up and going out in a climate where you'd wear things for comfort, while still wanting to look your best," she says. "I also think that the music inspired a certain way of moving, dancing and interacting," features that are especially notable on the womenswear front. Here, there's a fresh sensuality — a slinkiness, even — most confidently expressed in an American neckline trapeze dress, and a spaghetti strap halter neck top and skirt combo that comes in forest green and lemon yellow ribbed knit.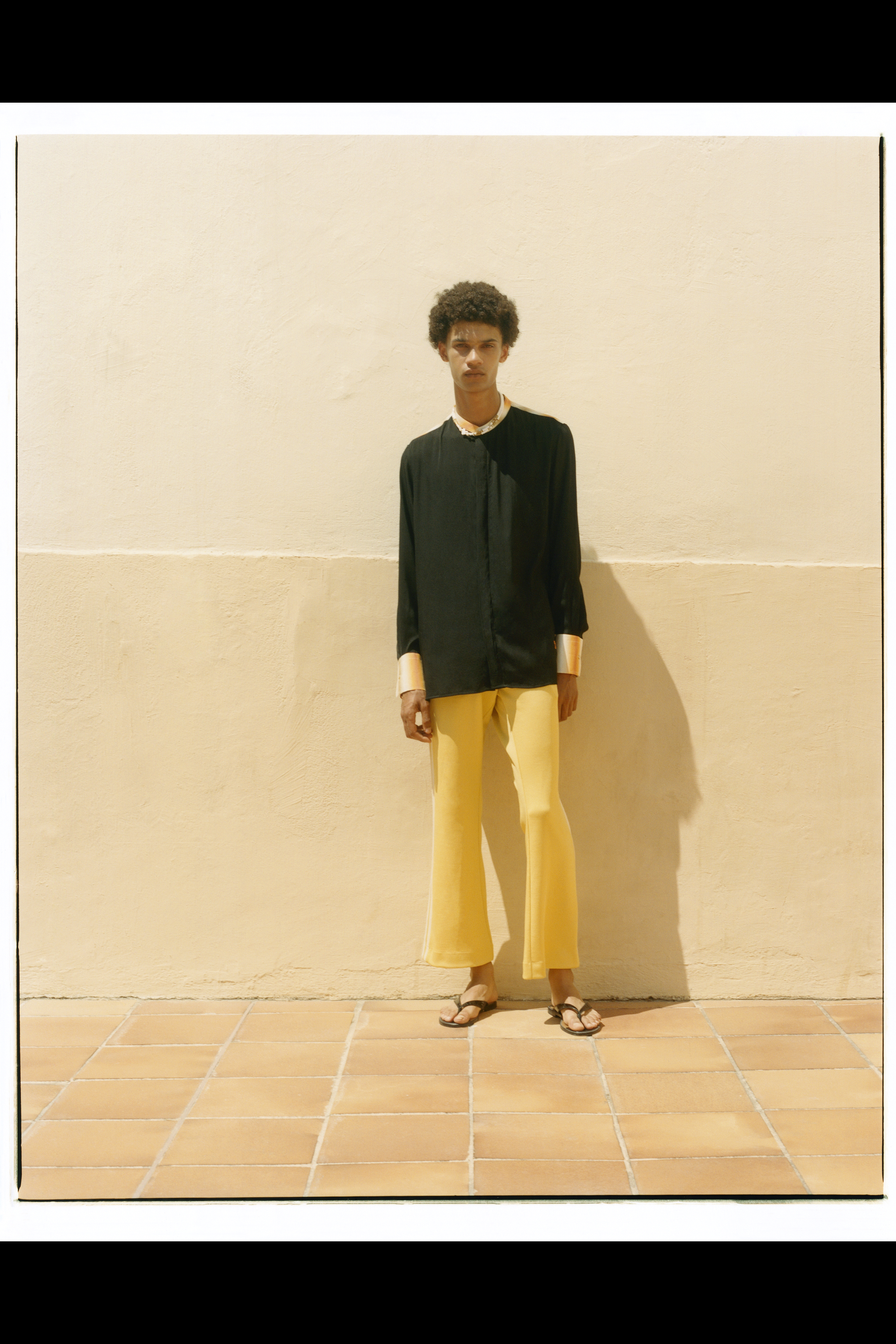 A through-line from previous collections, though, is, of course, Grace's adamant focus on handwork. The striped deep-V neckline of an écru mohair sweater is partitioned by a wide gauge crochet band, and jacquard and rust-tone leather outerwear pieces are hand-embroidered with craft stitching. The craft heritage of the region Grace has drawn inspiration from is also actively celebrated through collaborations with Burkinabé artisans on hand-dyed indigo textiles and organic handwoven cottons — their gradient stripes echoing the polyrhythmicality of the sound you're no doubt still listening to in the playlist put together by Grace and Florent Mazzoleni, a French author, producer and record collector. If you have been, then you'll probably have wondered how the golden aural texture of grungy riffs, softly sung Dioula lyrics and life-affirming drumming could ever be articulated through something as tangible as clothing. Well, Wales Bonner has managed to do just that.