12 Magical Things to Do in Denver This Weekend (December 4-6)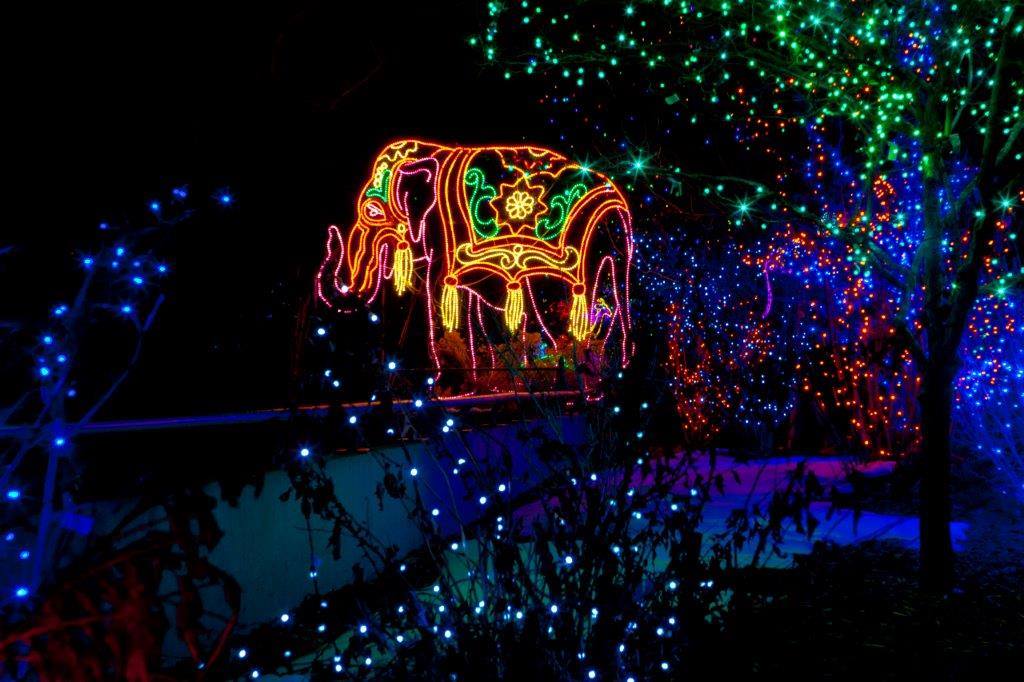 Zoo Lights, Courtesy of Denver Zoo (Facebook)
Shopping, singing, and strolling through lights: Denver has a variety of winter activities in store for you this weekend.
Holiday markets continue this weekend along with light shows galore and many favorite holiday presentations that have pivoted to virtual formats this year. Take a break from the holiday festivities to remember and reflect upon the upcoming anniversary of Pearl Harbor with a special presentation by Wings Over the Rockies.
*Please note that in-person events may have certain COVID-19 guidelines and restrictions. Visit each event's website for more information prior to attending.*
Denver Events on Friday, December 4
When: December 4–5
Where: Virtual
Cost: $10 
Sixty-five artists offer their art priced at $100 or less. Proceeds go to the Arapahoe Community College Foundation for scholarships.
When: December 4
Where: Virtual
Cost: $13–$15
The Rocky Mountain Consort will delight ears and imaginations as it explores Perspectives of Antiquity and reminds us that beautiful music continues to charm us, no matter how old it may be. 
When: Through December 19
Where: Denver Pavilions, 500 16th Street, Denver
Cost: Free
Denver's outdoor shopping, dining, and entertainment district, will transform into a magical holiday wonderland this season with a brightly lit forest surrounding three popular Parade of Lights floats on Glenarm Street.
When: Through December 31
Where: Denver Zoo, 2300 Steele St., Denver
Cost: $25
This year marks the 30th Anniversary of Zoo Lights at the Denver Zoo, featuring more than a million lights sparkling over 80 acres—plus a host of special measures to keep your family safe and healthy.
Denver Events on Saturday, December 5
When: December 5
Where: Virtual
Cost: Free
Presented by the Denver Gay Men's Chorus, this one-hour-plus program will feature a collection of DGMC's archival holiday favorites such as "Merry Everything," "Recycle The Fruitcake," and "Kislev Cowboys," interspersed with newly recorded cabaret solos, newly recorded piano and organ duets, handbells, as well as a brand-new high-energy virtual ensemble performance of Britney Spears' "My Only Wish (This Year)," and much more.
When: December 5
Where: Wings Over the Rockies Exploration of Flight, 13005 Wings Way, Englewood
Cost: $4–$10
Join Wings Over the Rockies Exploration of Flight and presenter Steve Steinberger for a historical review of the attack on Pearl Harbor. Understand why it happened, how it was executed, and the achievements that came from it.

The Beverly Belles entertain at Stanley Marketplace for Small Biz Saturdays (Facebook)
When: Through December 19
Where: Stanley Marketplace, 2501 Dallas St., Aurora
Cost: Free
Holiday decor, festive vibes, great food and drinks, and top-notch shopping from locally-owned boutiques. Stanley is a perfect place to celebrate the holidays and to stock up on gifts for all your loved ones—masked up and socially distanced, of course. Please note that during Level Red, eating and drinking indoors is prohibited, but outdoor dining is allowed.
When: December 5
Where: Virtual
Cost: Free
An epic fundraiser extravaganza broadcast live and direct from Stewart Auditorium will feature a dozen musical acts over eight hours. Enjoy some of your favorite local musicians as they perform original tunes and holiday standards to help get us into the mood of the season while supporting the Longmont Museum.
When: December 5
Where: Virtual
Cost: Free
Go back in time to the delightful days of post-war Christmas celebrations with a full lineup of vintage Christmas ornament making, swing dance lessons, vintage-themed cocktails, and 1940s main stage performances and bands.
Denver Events on Sunday, December 6
When: Through December 13
Where: Larimer Square Garage, 1422 Market St., Denver
Cost: $5
An eclectic Holiday Market is coming to Downtown Denver for two weekends this December! Shop 40 curated local makers, artists, food vendors, and more spread out through two floors of the Larimer Square Parking Garage!
When: Through December 27
Where: Four Mile Historic Park, 715 South Forest St., Denver
Cost: $8–$14
Join Four Mile Historic Park in December for a winter spectacular this holiday season featuring an ice skating rink, winter scavenger hunt, kids craft activities, seasonal snacks and beverages, art installations, and video games.
When: December 5–January 2
Where: Virtual
Cost: $25–$75 per household
Hosted by Cleo Parker Robinson Dance, this Denver family tradition blends dance, music, and spoken word to lift spirits and fill hearts with joy, love, and peace!
What are you doing this weekend in Denver? Any fun events or things to do we missed on our list? Comment below.